Best Value New Flat Roofs And Flat Roof Repairs Town Roofing Chester
Town Roofing Limited is a long established family business you can trust. We pride our reputation on providing you with an honest reliable service as we have done for hundreds of customers in the local area.
Town Roofing generally supply and fit traditional bitumen flat roofs using boiler or torch on methods and GPR fibre glass. All our staff are GRP approved and we use a high quality materials. Town Roofing have extensive experience of fitting fibre glass flat roofs and rubber Firestone flat roofs.
Felt Roofs
Town Roofing, have established themselves as the leading felt roofing company you can rely on in the Chester Area. Felt roofing is still a very popular roofing solution. Whether you need to have your felt roof repaired or fully refurbished Town Roofing can supply and fit a wide range of felt roofing products. Town Roofing excels in fitting, maintaining and replacing felt roofing. This is a tried and tested roofing product that gives excellent waterproofing and still remains a popular choice, particularly in domestic roofing. Our flat roofing customers range from owners of domestic properties to large commercial organisations. Town Roofing can offer flat roofing systems suitable for all applications and budgets.
Why have a felt roof?
The main advantages of a felt roof:
A proven and reliable roofing system
Materials are cost effective and easily available
Can be applied on a small and large scale
Quality materials available with high standards ratings
Flat roofs can be seamless
High Durability
Can be installed to withstand foot traffic
Applicable on flat, pitched and curved roofs
Large range of application methods and techniques makes it easy and cost effective to install.
Felt roofing systems are just one of a number of different roofing options available to businesses and domestic customers.
Fibreglass Flat Roofs
Traditional flat roof coverings rely on bitumen, lead or asbestos. Felt is the most common roof covering on to hot bitumen, however unfortunately felt breaks down in time and is prone to leaking. The weather and other factors combine to give the traditional felt roof covering an unpredictable lifespan, needing regular maintenance, repair and eventually replacement.
Fibreglass Roofing offers a clean, long lasting roofing system and a solution to flat roof leakage. Fibreglass is far stronger and more durable than traditional roofing products enabling a maintenance free finish which allows flexibility and has no seams or joins whatsoever across the entire roof area, eliminating the risk of leakage.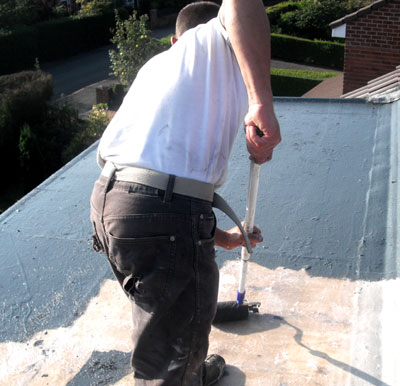 Fibreglass roofing offers significant benefits:
Virtually Maintenance free
Tough and hard wearing
Wide range of colours
Seamless
Anti slip finish available
Theft Proof
25 Year Guarantee
At Town Roofing we pride ourselves on offering the highest standard of fibreglass roofing work at competitive rates. Town Roofing are happy to undertake commercial, industrial and private work and will tackle projects of any size.
Our team at Town Roofing of fully qualified roofers can install fibreglass flat roofing systems to give you an impeccable finish, with a non-slip roof that will have no leaks or joints and will last for over 25 years.
Rubber Firestone Flat Roofs
Firestone is a well respected trusted name in rubber technology and they have developed quality and highly durable rubber roofing systems to meet the most demanding of applications. A Firestone EPDM roofing system is an environmentally friendly roofing solution with limited environmental impact during manufacture and use of the product.
Firestone EPDM is a high performing synthetic rubber membrane which offers a unique combination of features and benefits:
Quick and easy installation - Firestone EPDM is available in a wide range of panel sizes which enables speed of installation and fewer seams.
High durability - Due to itŐDM polymers and carbon black composition, Firestone EPDM offers unmatched resistance to weathering, ozone and UV radiation.
High flexibility - Firestone EPDM remains flexible at temperatures down to 尣 and can elongate over 300% to cope with building movement and temperature change.
Low cost 穴h competitively priced EPDM roofing system, a Firestone EPDM roofing requires minimal maintenance, and this with the inherent durability will result in a low overall cost roofing option.
The Firestone rubber EPDM flat roof system requires the services of skilled flat roof experts who have experience in fitting this type of covering.
Town Roofing have a team of Firestone rubber EPDM flat roofing system professionals who are experienced at fitting this type of roof covering to the standards set by Firestone.
Flat Roof Repair
Old Flat roofs are well known for being at risk from leakages which in turn causes internal damage to the ceilings and decor. Flat roofs made from felt or bitumen, even when well installed have a limited lifespan due to wear and tear caused by weathering and hence need to be maintained regularly to remain effective. When we repair felt roofs we make sure all old damaged felt is removed and replaced. As professional roofing contractors, all roof repairs and replacements are completed by by our experienced team of quality roofers.
Over the past twenty years, research, technology and experience have greatly affected and improved flat roof construction methods.
To benefit from these developments, it is important to use a roofing contractor that is skilled and up to date in flat roofing technology.
Whether you want a simple repair or a complete roof replacement, Chris Dodd of Town Roofing can assist you. Town Roofing will help you choose a roofing sytems that meets your requirements and your budget. We have over 30 years of experience in the roofing trade and are experts in flat roofing, slating and traditional tiling amongst all other general roofing services.
Town Roofing offers competitive quotes on all roof repair work and a no quibble 10 year guarantee on all roofing repairs. The Dodd family of roofers have been fixing leaking roofs for the past 60 years covering all of Cheshire, Wirral, Clwyd and North West. Our services range from, New roofs, Replacement roofs, Garage roof repairs, House, Porch, Extension roofing repairs, Flat roof repairs, quality felt roofing, Tiled roofing repairs, Slate roof repairs, UPVC fascias - Plastic Cladding, plus guttering and all forms of building maintenance.
Chris Dodd founder and roofing consultant personally oversees all work carried out. We offer the best prices based on quality materials. We are so confident in our workmanship and the materials we use we offer at least a 10 year guarantee on all work.
What our customers say about the Town Roofing Flat Roof service
Chris, We are really delighted with the work you and your team did for us. In the future, if we need a roofer we will ask to work for us again. Of course, we would be happy to recommend you to anyone, so if ever you need a reference for a tentative customer just give us a call. Mickle Trafford 2011
Thank you for carrying out an excellent job very professionally. From the start of the job to the finish we were really impressed with the efficient and tidy way you and your team work worked.
Upton 2011
Want a great quote on a new flat roof or flat roof repair?
For a roofing company that has been serving Chester for over 30 years,
talk to Chris Dodd at Town Roofing now on 01244 303310.
If you have any enquiries or would like further information on the services and the products we provide please feel free to Contact Us.